AGH-3.6-6.2KW manual
APP down load
Features
1.Mppt Pure sine wave solar inverter
2.Output power factor 1.0
3.WIFI Inlcuded--WIFI/ PC Online Monitor Support
4. Working With Or Without Battery,Max charging current 120A
5.Built-in anti-dusk kit for harsh environment,Stop the Bug,extend Life Span
6.Smart battery charge design to optimize battery life
7.ON/OFF Grid Function
8.Cold Start
9.AGM/FLOOD/Lithium Battery Support Bulk/Float/Low Cut Off Voltage Adjustable
If Using Lithium Battery, for safety reasons We recommend Lifepo4 instead of ternary lithium battery
10.PV High Effeciency working voltage 250-360V
Hybrid Solar Inverter How To Turn On GRID-Tied function/Hybrid function?
Press Enter Key for 3 seconds,go to 37 to setting HYD
Please Note:This inverter default is off grid mode, only you setting,then go to the Hybrid mode
Daxtromn 6.2KW Hybrid Solar Inverter Pure Sine Wave 220VAC 48VDC Input 120A MPPT Solar Charger Controller 6200w
37

GRID-tie operation

Off grid (default)

Inverter operates only in off-gridmode Solar energy provides powertothe loadsas first priority and chargingsecond

Hybrid

Inverter operates hybrid mode. Solarenergy provides power to the loads asfirst priority and charging secondExcess energy feed to grid.
How to setting Daxtromn AGH-6.2KW Hybrid solar inverter?
Model

AGH-6.2KW

PHASE

1-phase

MAXIMUM PV INPUT POWER

6000W

RATED OUTPUT POWER

6000W

MAXIMUM CHARGING POWER

6000W

GRID-TIE OPERATION

PV INPUT(DC)

Nominal DC Voltage/Maximum DC Voltage

360VDC/500VDC

Start-up Voltage/Initial Feeding Voltage

120VDC

MPPT Voltage Range

90VDC~450VDC

Number of MPPT Trackers/Maximum Input Current

1/27A

GRID OUTPUT(AC)

Nominal Output Voltage

220/230/240VAC

Output Voltage Range

195.5~253VAC

Nominal Output Current

26.1A

Power Factor

>0.9

EFFICIENCY

Maximum Conversion Efficiency(DC/AC)

97%

OFF-GRID OPERATION

AC INPUT

AC Start-up Voltage/Auto Restart Voltage

120-140VAC/180VAC

Acceptable Input Voltage Range

90-280VAC or 170-280VAC

Maximum AC Input Current

40A

PV INPUT(DC)

Maximum DC Voltage

500VDC

MPPT Voltage Range

90VDC~450VDC

Number of MPPT Trackers/Maximum Input Current

1/27A

BATTERY MODE OUTPUT(AC)

Nominal Output Voltage

48VDC

Output Waveform

Pure sine wave

Efficiency(DC to AC)

94%

HYBRID OPERATION

PV INPUT(DC)

Maximum DC Voltage

360VDC/500VDC

Start-up Voltage/Initial Feeding Voltage

120VDC

MPPT Voltage Range

90VDC~450VDC

Number of MPPT Trackers/Maximum Input Current

1/27A

GRID OUTPUT(AC)

Nominal Output Voltage

220/230/240VAC

Output Voltage Range

195.5~253VAC

Nominal Output Current

26.1A

AC INPUT

AC Start-up Voltage/Auto Restart Voltage

120~140VAC/180VAC

Acceptable Input Voltage Range

90~280VAC or 170~280VAC

Maximum AC Input Current

40A

BATTERY MODE OUTPUT(AC)

Nominal Output Voltage

220/230/240VAC

Efficiency(DC to AC)

94%

BATTERY & CHARGER

Nominal DC Voltage

48VDC

Maximum Solar Charging Current

120A

Maximum AC Charging Current

80A

Maximum Charging Current

120A

GENERAL

PHYSICAL

Dimension, D*W*H(mm)

420*310*120

Net Weight(KGS)

13

INTERFACE

Communication Port

WIFI

ENVIRONMENT

Operating Temperature

0℃~90℃

Storage Temperature

-10℃~50℃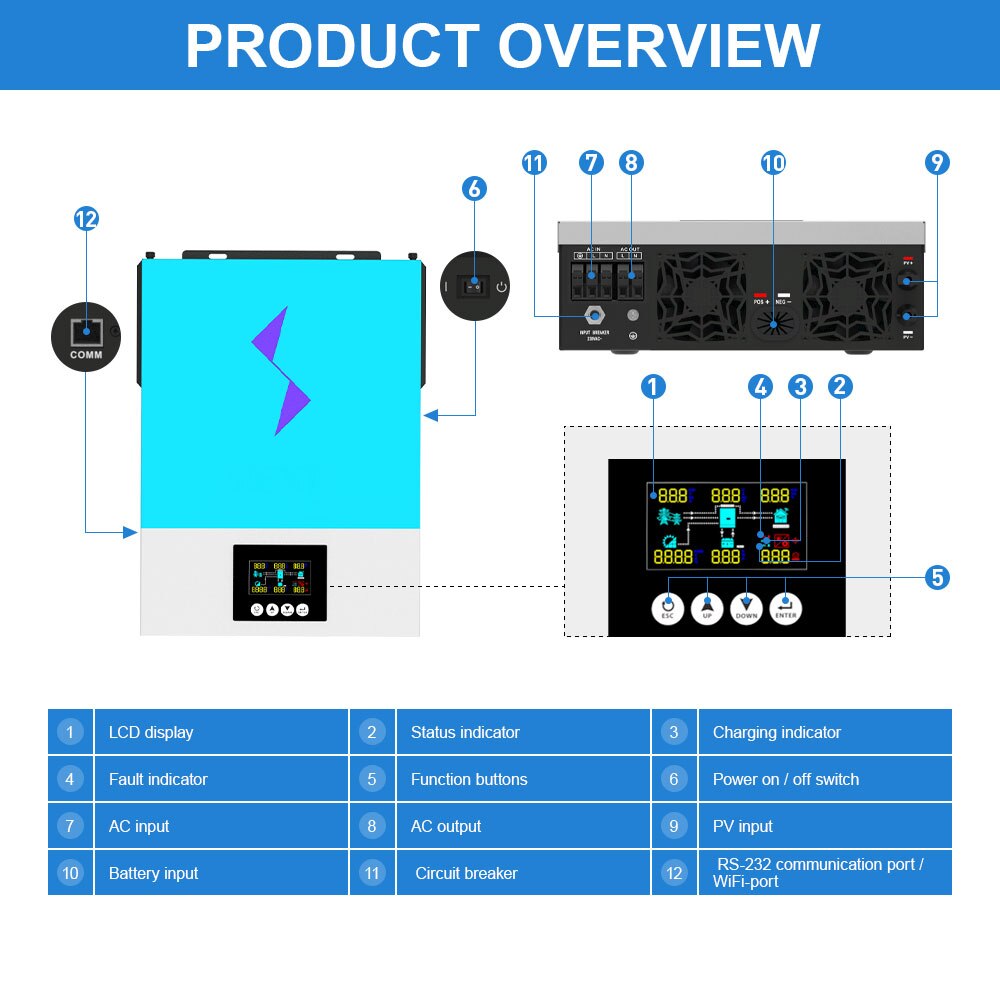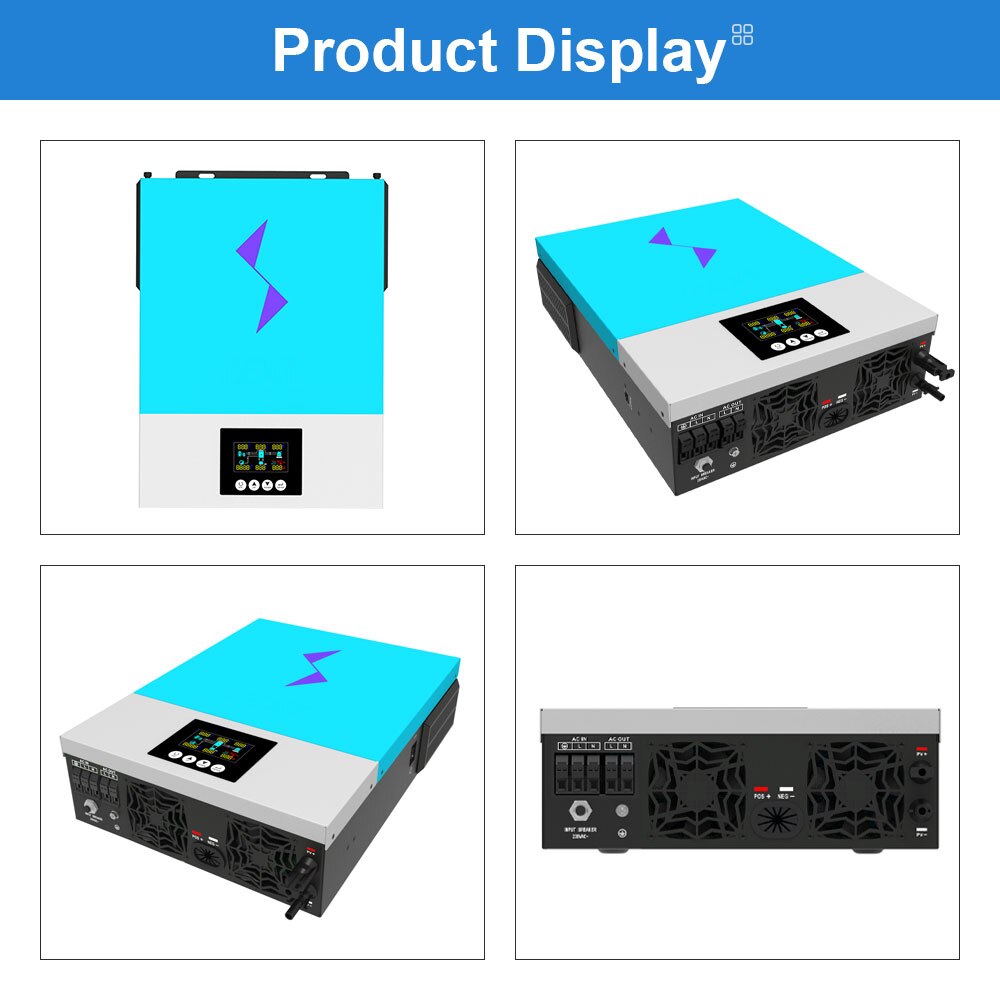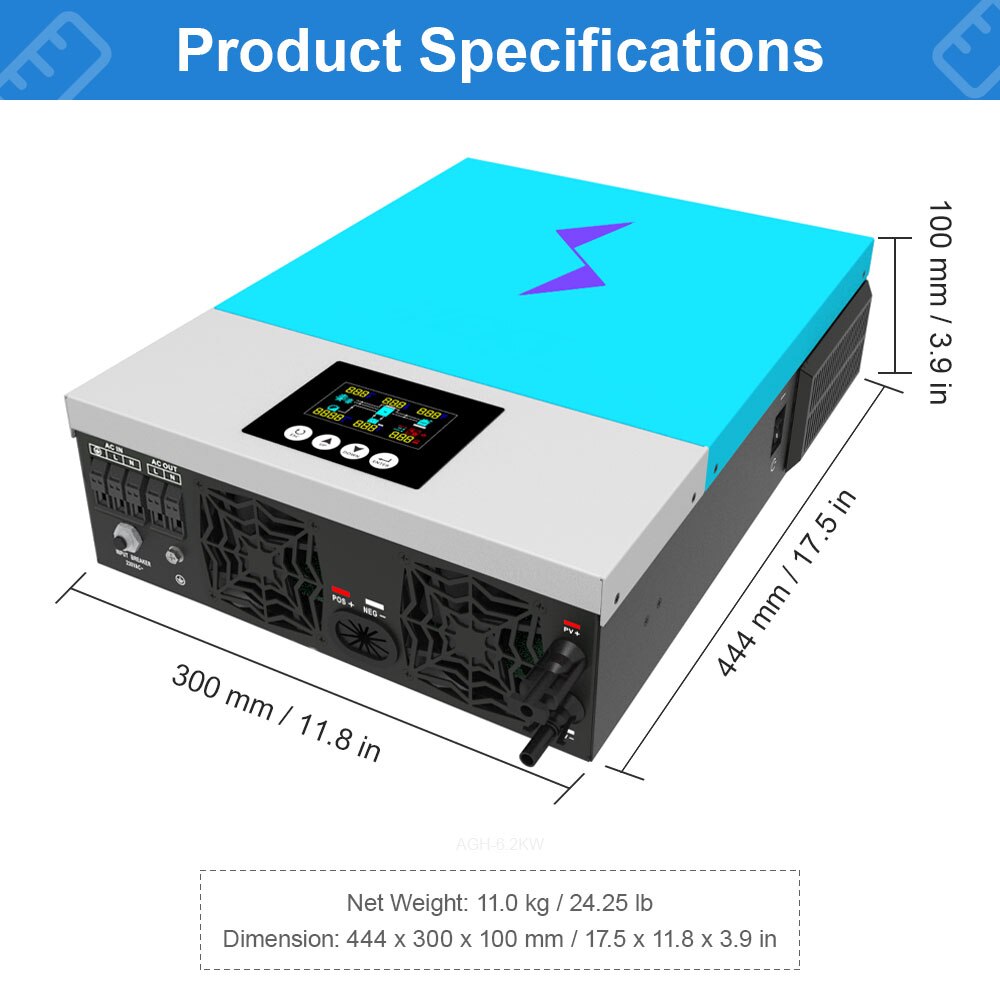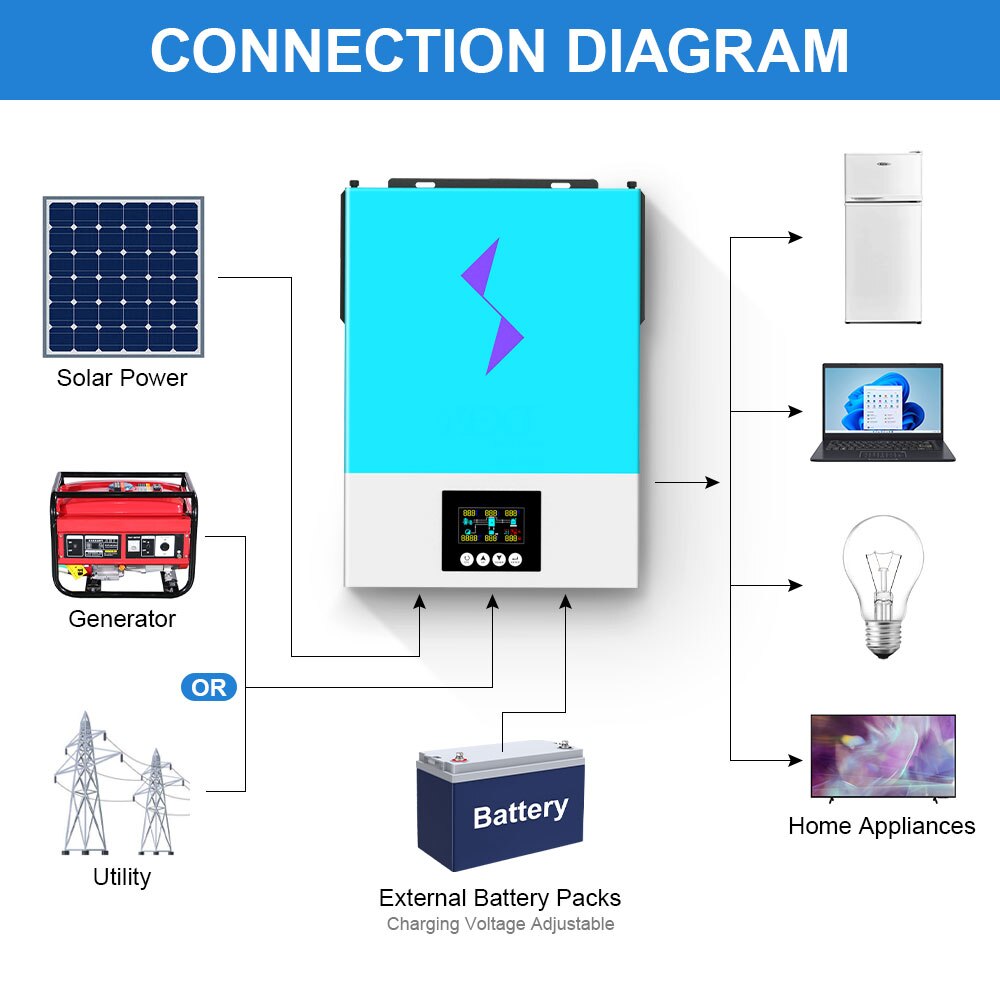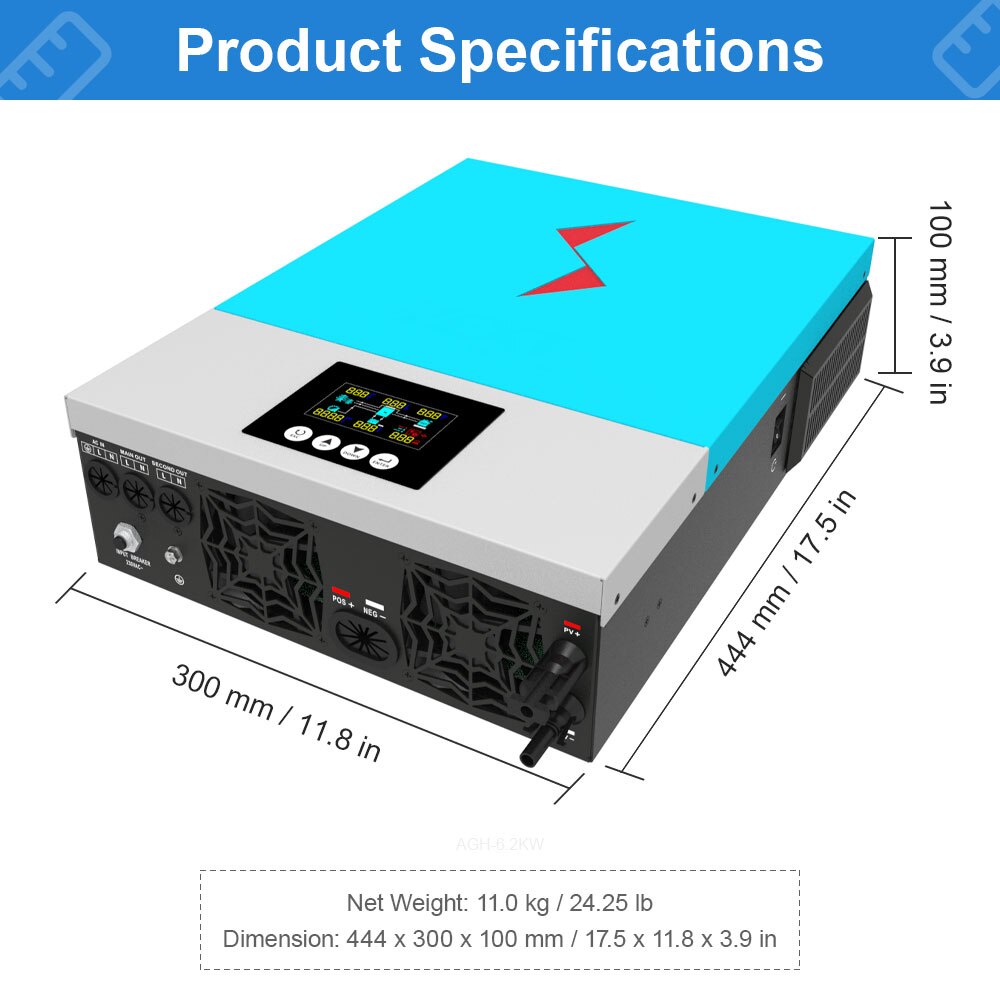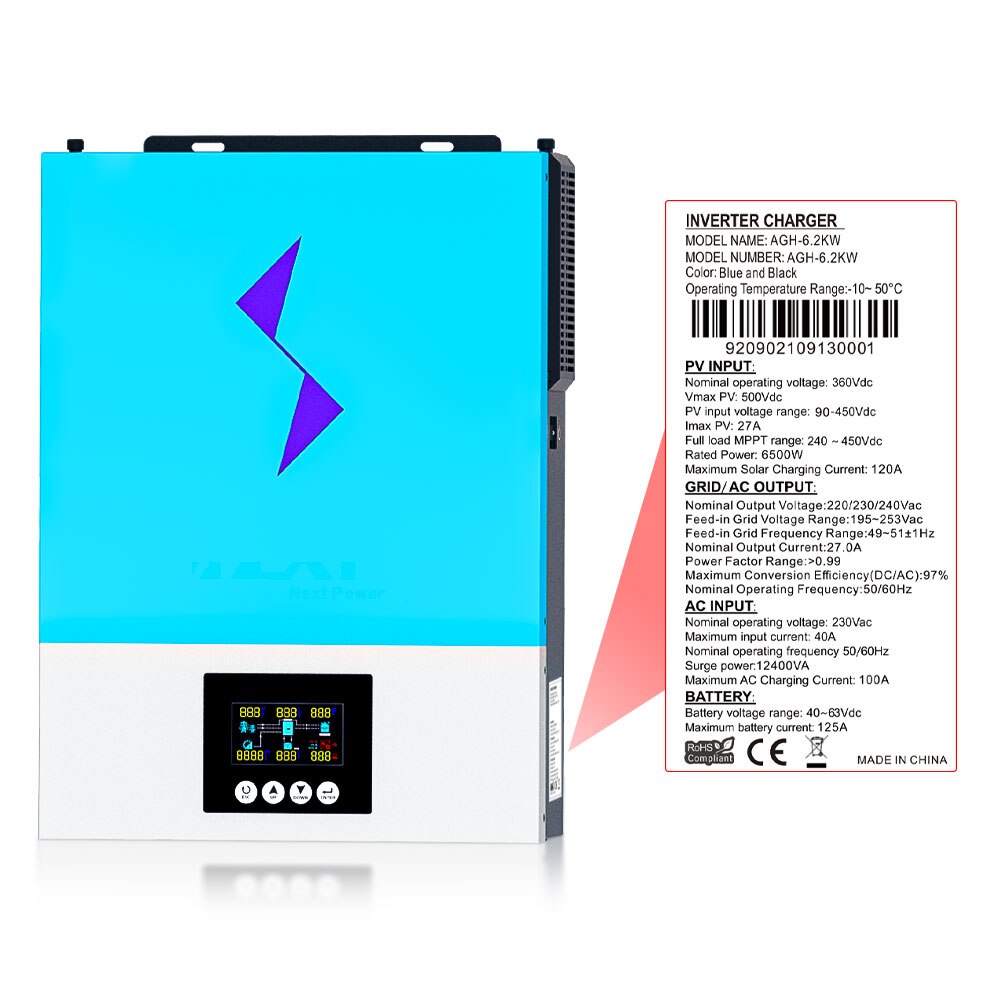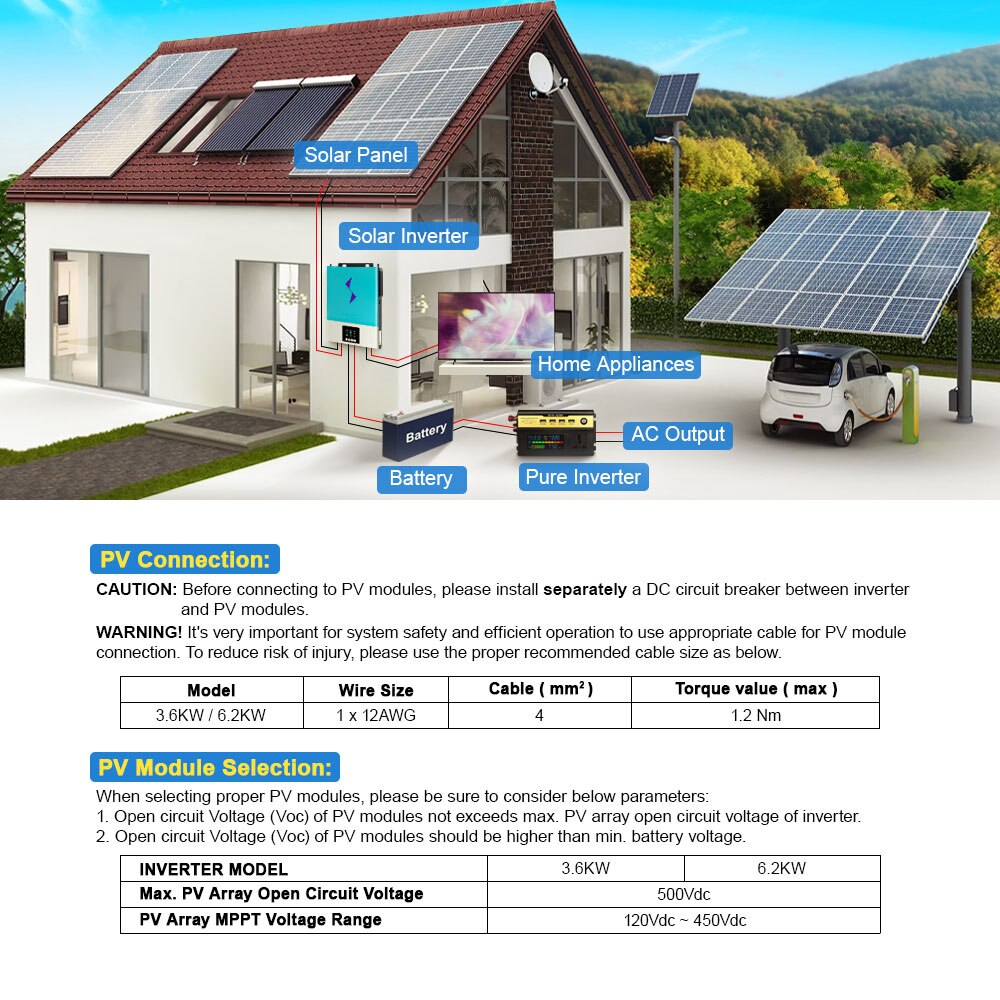 Monitor
Support Online Monitor and Setting (if need demonstration contact us on message,we will send you link for the video)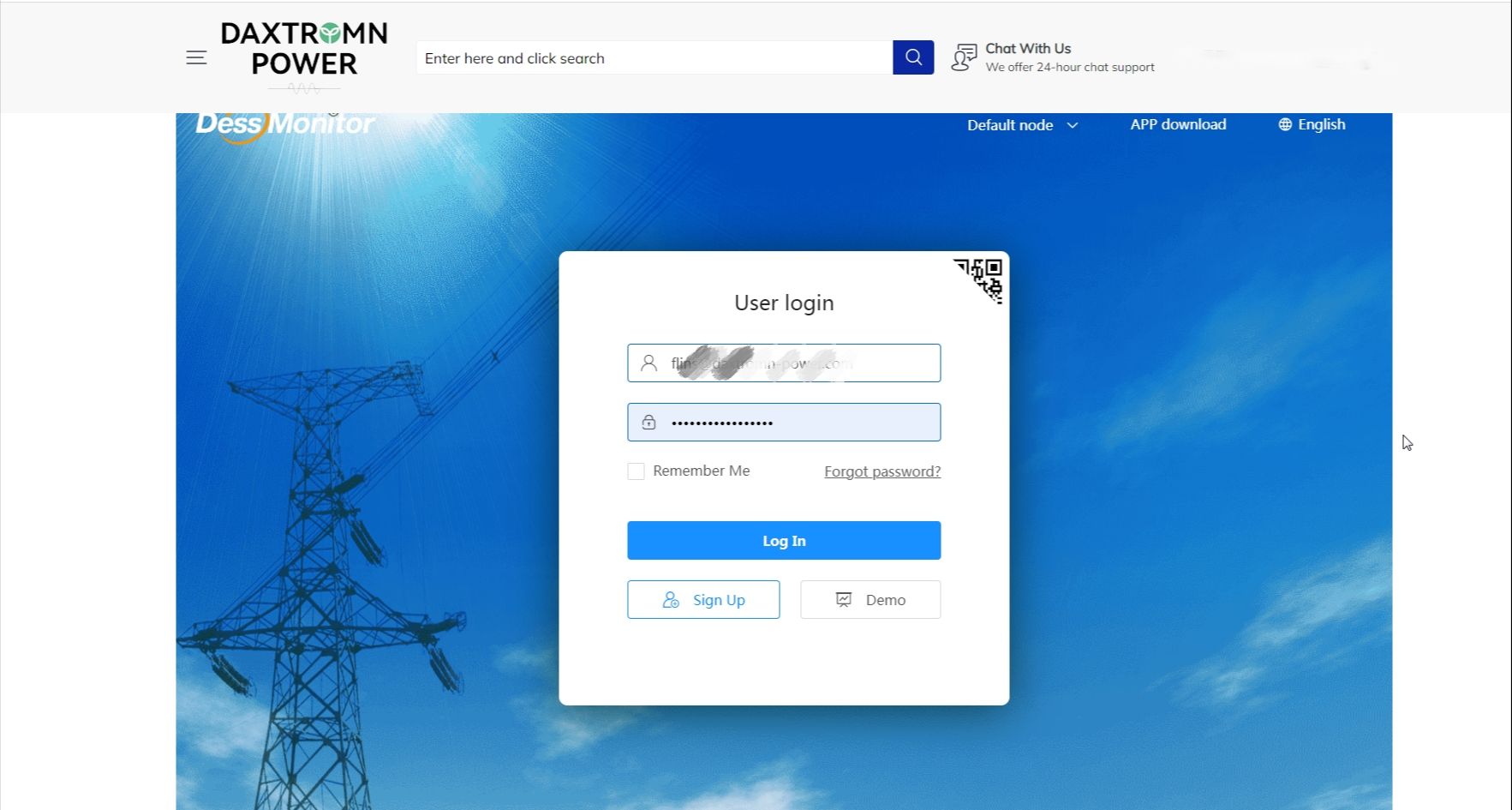 Most of the Value can be setting online visualized operation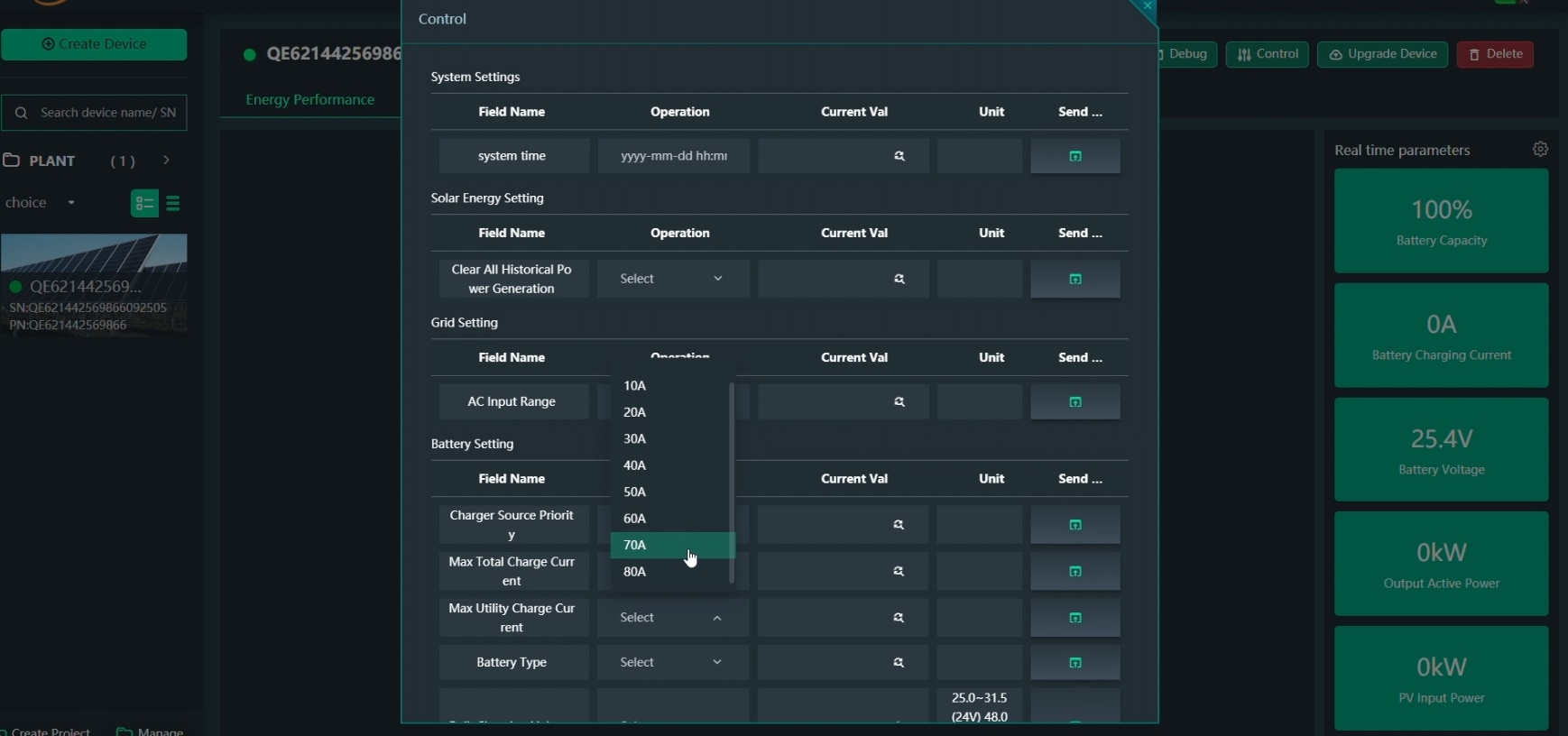 Can monitor several device add,help for massive management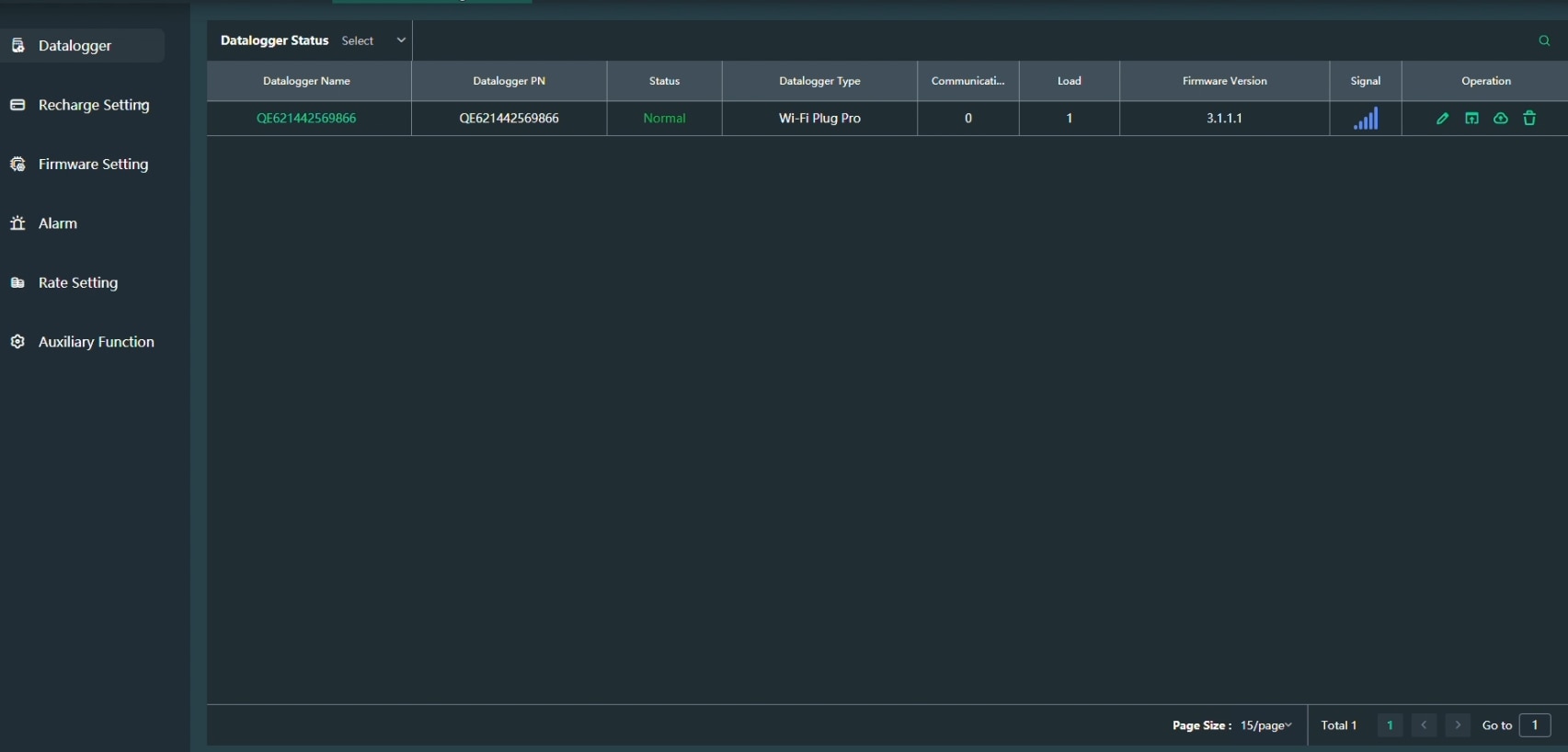 Support phone APP setting and monitor