Daxtromn Hybrid Solar Inverter 15KW PV 450Vdc 10000w 80Ax3 48V Battery Charger Parallel kit mounted RS232 Dry Contact Grid Tied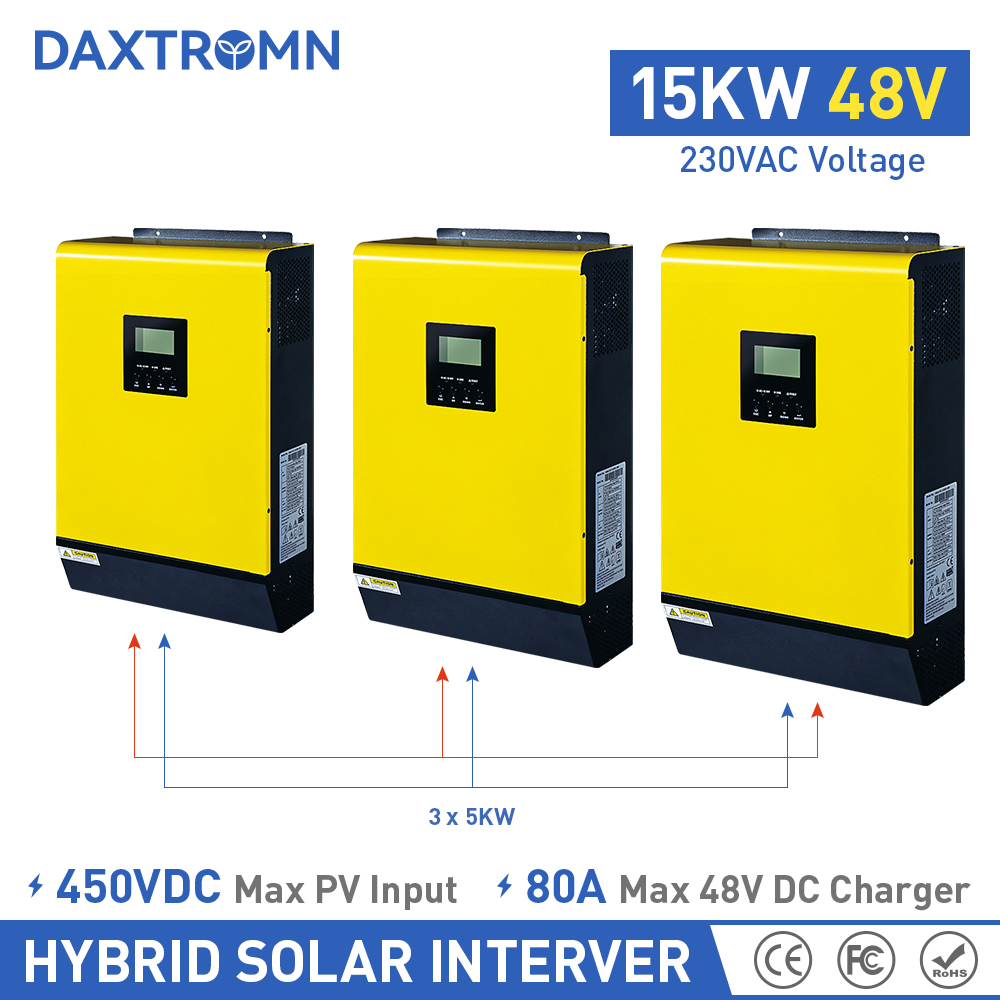 NOTE: This 15KW Solar inverter is formed by 3 BGH-5KW Solar inverter,Parallel kits included, no need to buy extra.
Bellow is the specificaiton for BGH-5KW
MPPT Hybrid Solar Inverter 5KW 48V 230V 450Vdc 5000w PV 80A Battery Charger build in Parallel kit RS232 Dry Contact Grid Tied
Main Features:
Pure sine wave max 5000w output

Max 80A MPPT solar charger (max 5kw PV array)

Max 450Vdc input

HYBRID Grid-Tie / Off Grid SOLAR inverter for 48V system

Parallel support up to 9 units

work with 48v battery

Total system max charging: 80A

Bundled monitoring & setting software

Supports 50hz or 60hz (program adjustable)

Grid feedback when there is excess energy

USB interface available

Able to use ac grid or generator power

Timer setting for AC charging & output now available
Noted:
1. Because this inverter is non isolated, only three types of PV modules are acceptable: single crystalline, poly crystalline with class A rated and CIGS modules.
To avoid any malfunction, do not connect any PV modules with possible current leakage to the inverter. For example, grounded PV modules will cause current leakage to the inverter. When using CIGS modules, please be sure NO grounding.
2.Before connecting to AC in put power source , please install a separate AC breaker between inverter and AC input power source.This will ensure the inverter can be securely disconnected during maintenance and fully protected from over current of AC input. The recommended spec of AC breaker is 16A for 1.5KW and 32A for 3KW and 5 0A for 5KW;
There are two terminal blocks with "IN" and "OUT" markings. Please do NOT mis connect input and output connectors.S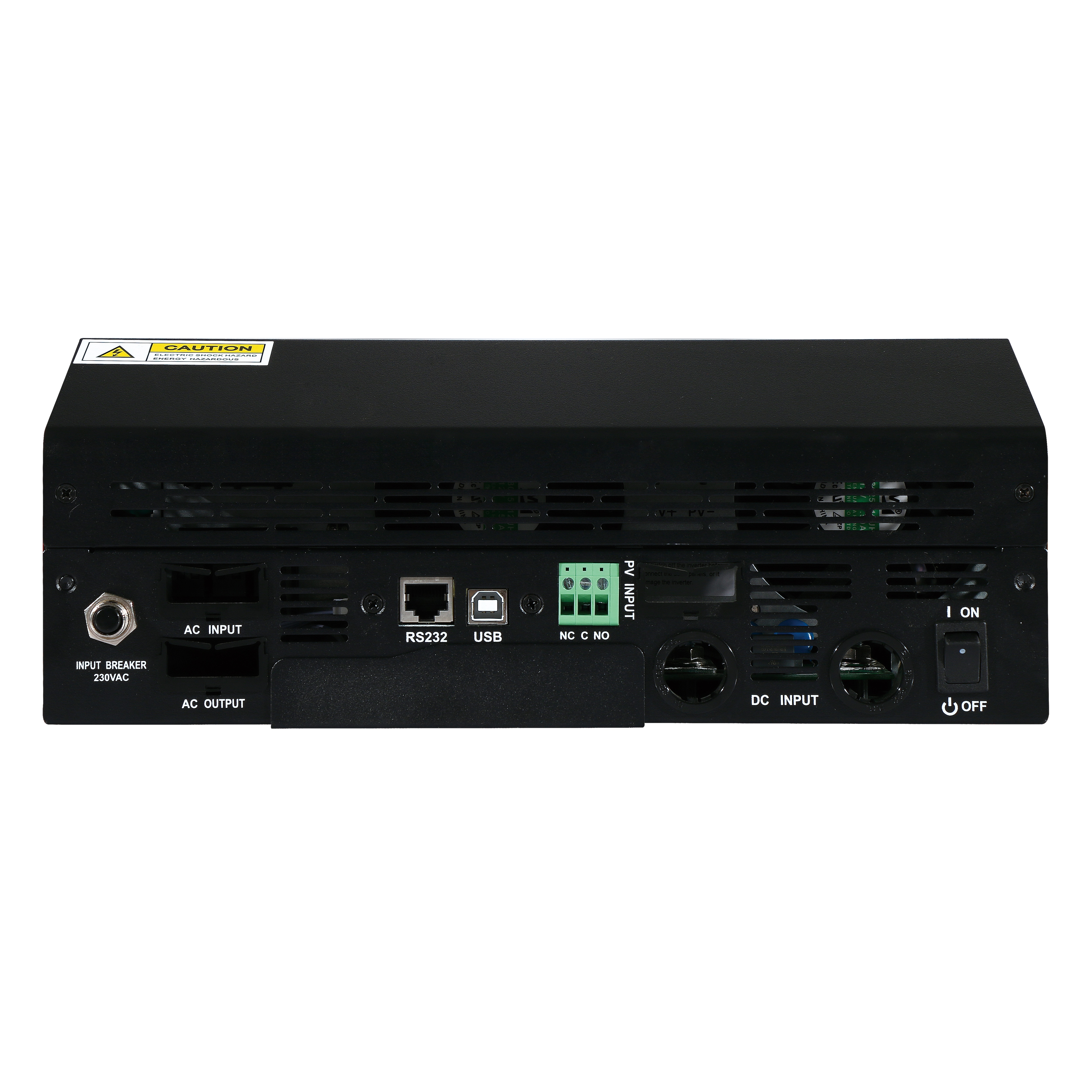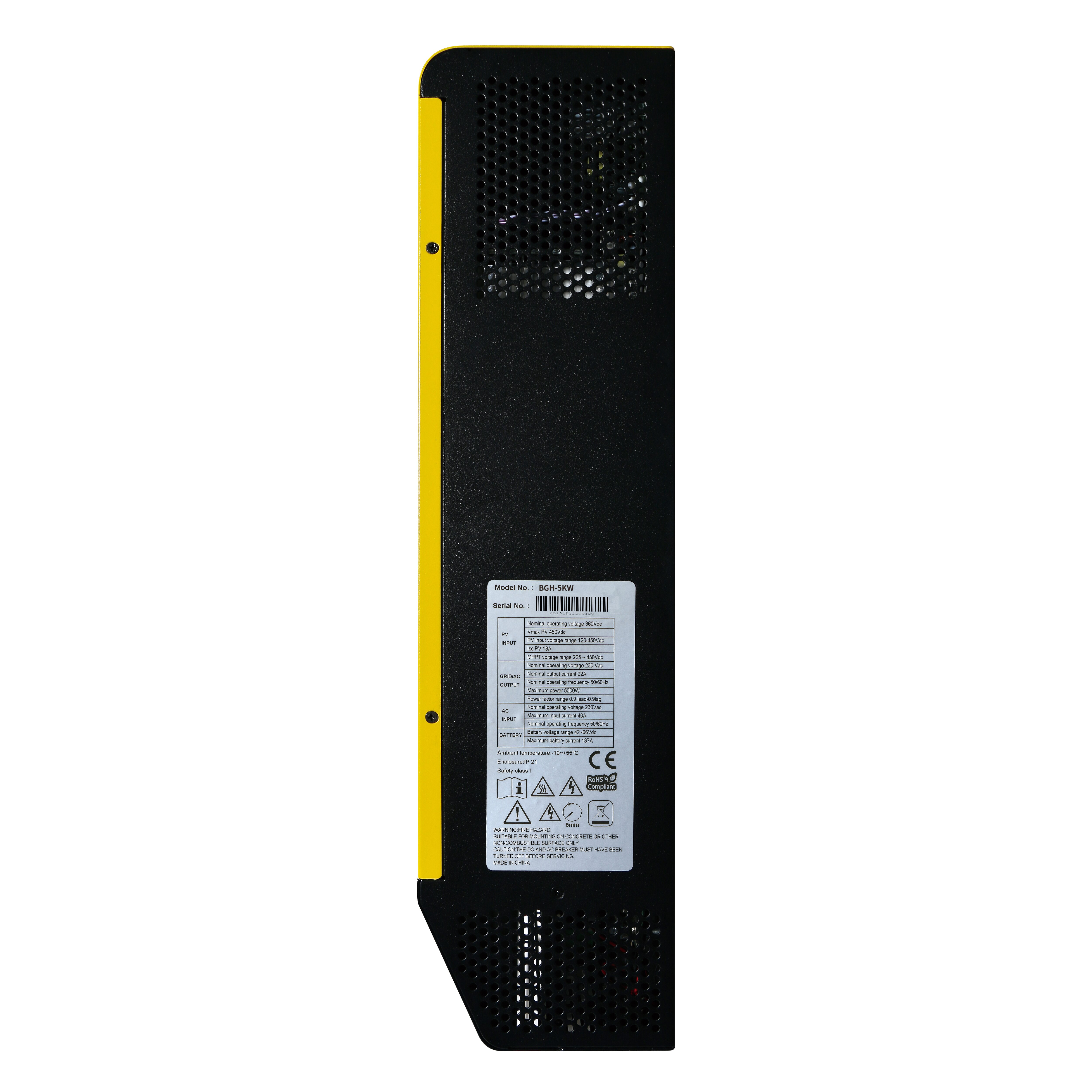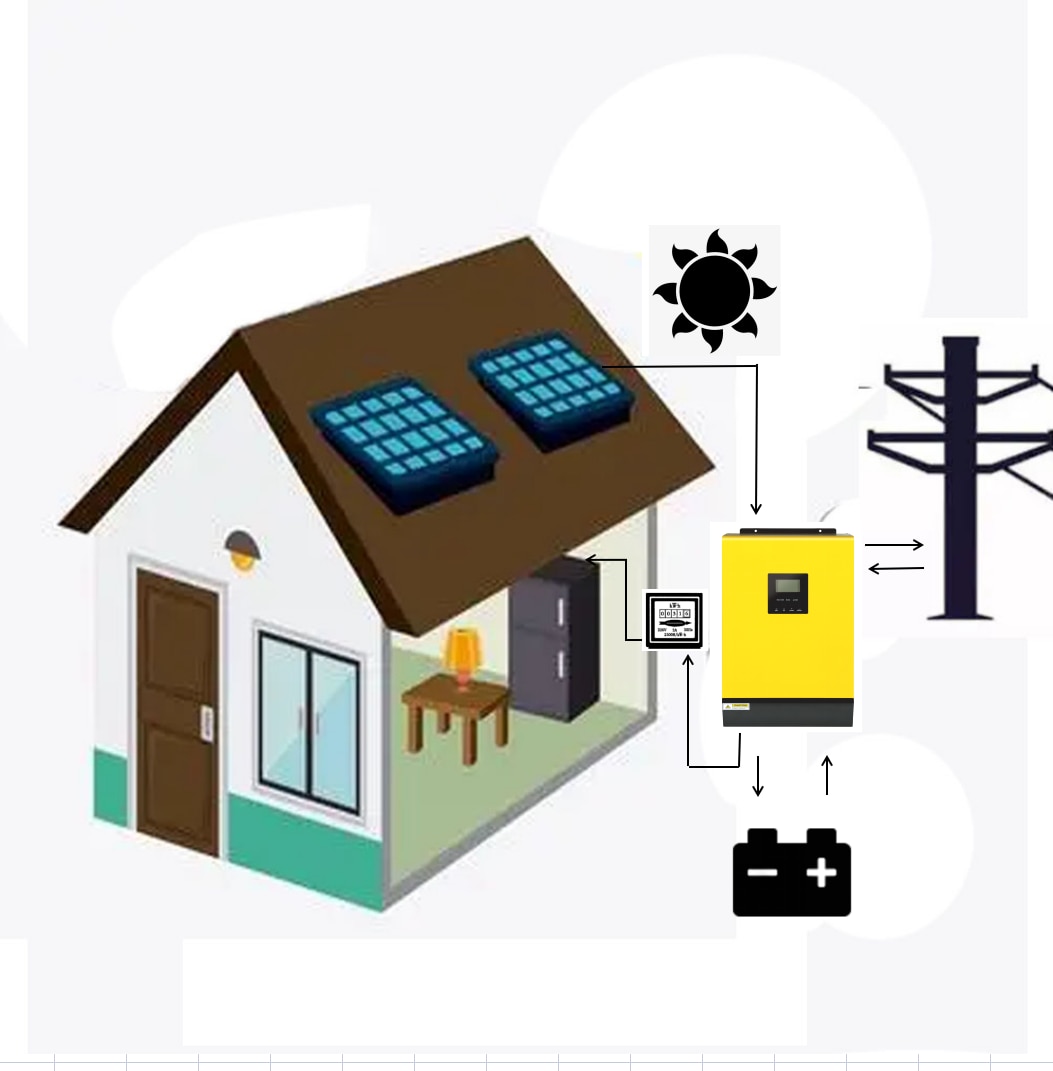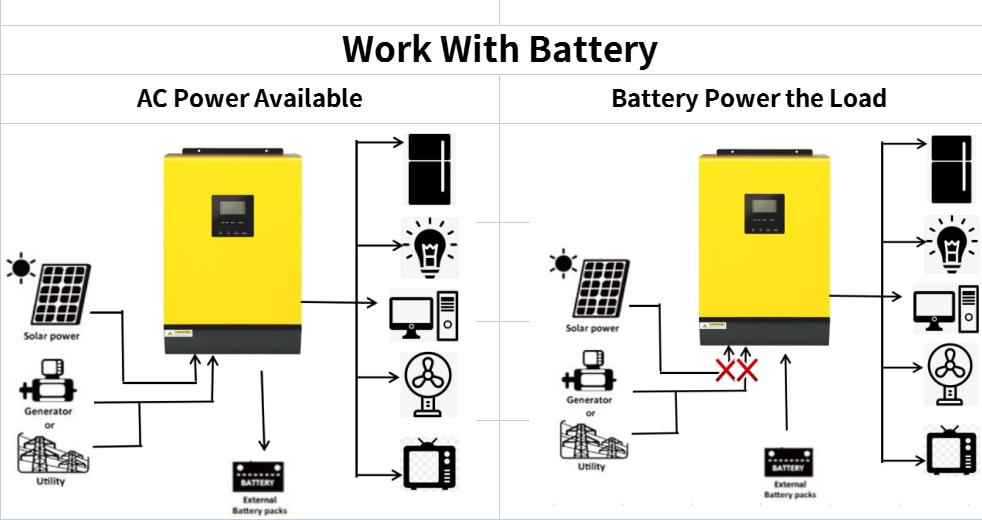 Model

BGH-5KW

Max.PV Array Power 5000W

5000W

Rated Output Power

5000W

Maximum PV Array Open Circuit Voltage

450VDC

MPPT Range @Operating Voltage

120 VDC~430 VDC

MPPT Tracker Number

1

GRID-TIE OPERATION

GRID OUTPUT(AC)

Nominal Output Voltage

220/230/240 VAC

Output Voltage Range

184-264.5VAC or 195.5-253VAC(Select-able)

Nominal Output Current

21.7A

Power Factor

>0.99

EFFICIENCY

Maximum Conversion Efficiency(DC/AC) 95%

OFF-GRID, HYBRID OPERATION

GRID INPUT

Acceptable Input Voltage Range

90-280VAC or 170-280VAC

Frequency Range

50Hz/60Hz(Auto sensing)

Maximum AC Input Current

40A

BATTERY MODE OUTPUT(AC)

Nominal Output Voltage

220/230/240/VAC

Output Waveform

Pure Sine Wave

Efficiency(DC to AC)

93%

BATTERY & CHARGER

Nominal DC Voltage

48VDC

Maximum Solar Charge Current

80A

Maximum AC Charge Current

80A

Maximum Charge Current

80A

GENERAL

PHYSICAL

Dimension,D*W*H(mm)

120*295*468

Net Weight (kgs)

12KG

INTERFACE

Parallel Function

Yes,9 Units

Communication Ports

USB,RS-232 and dry contact

ENVIRONMERNT

Humidity

0~90%RH(Non-condensing)

Operating Temperature

-10℃ to 50℃