Daxtromn Hybrid Solar Inverter 3600W 2 AC Out Put 24v Battery 120A DC 6000w PV Input 120VDC-450VDC Input
Hybrid Solar Inverter How To Turn On GRID-Tied function/Hybrid function?
Press Enter Key for 3 seconds,go to 37 to setting HYD
Please Note:This inverter default is off grid mode, only you setting,then go to the Hybrid mode
37
GRID-tie operation

Off grid (default)

Inverter operates only in off-gridmode Solar energy provides powertothe loadsas first priority and chargingsecond

Hybrid

Inverter operates hybrid mode. Solarenergy provides power to the loads asfirst priority and charging secondExcess energy feed to grid.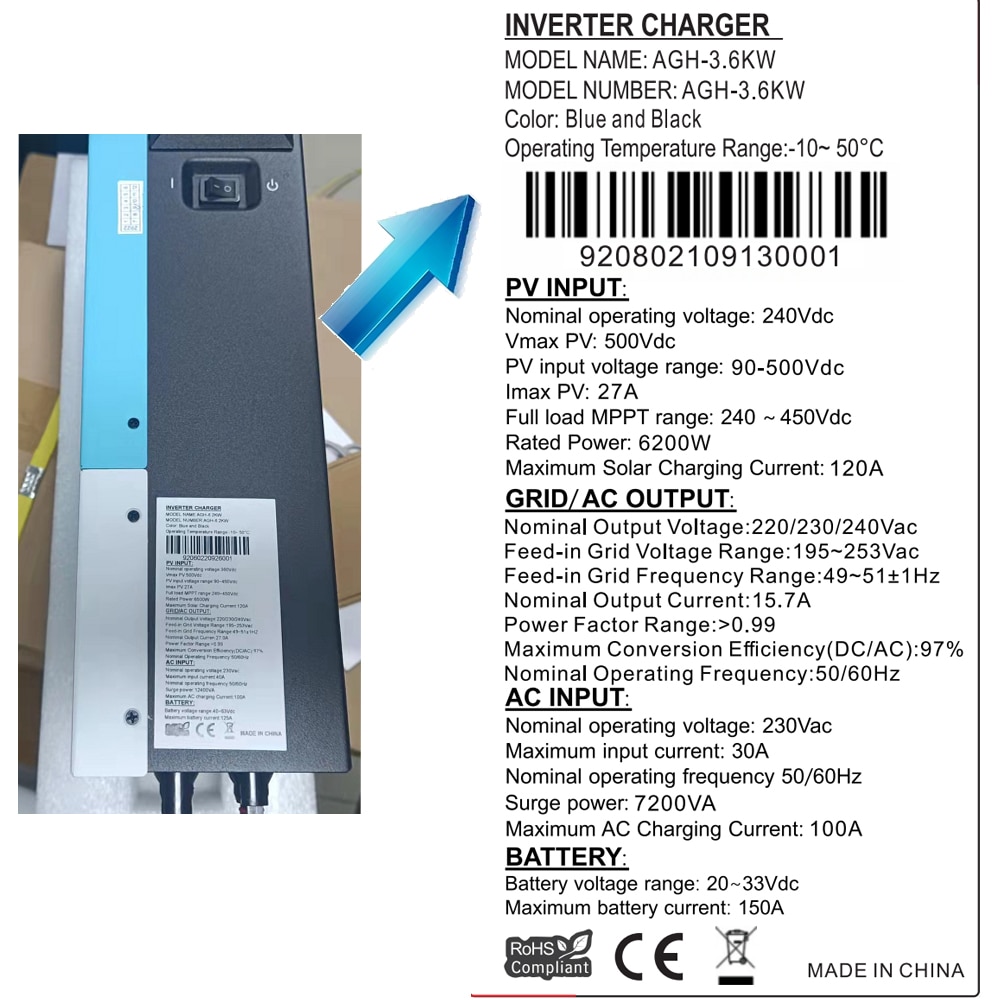 Model

AGH-3.6KW

AGH-6.2KW

PHASE

1-phase

MAXIMUM PV INPUT POWER

6000W

RATED OUTPUT POWER

3600W

6000W

MAXIMUM CHARGING POWER

6000W

GRID-TIE OPERATION

PV INPUT(DC)

Nominal DC Voltage/Maximum DC Voltage

360VDC/500VDC

Start-up Voltage/Initial Feeding Voltage

120VDC

MPPT Voltage Range

90VDC~450VDC

Number of MPPT Trackers/Maximum Input Current

1/27A

GRID OUTPUT(AC)

Nominal Output Voltage

220/230/240VAC

Output Voltage Range

195.5~253VAC

Nominal Output Current

15.7A

26.1A

Power Factor

>0.9

EFFICIENCY

Maximum Conversion Efficiency(DC/AC)

97%

OFF-GRID OPERATION

AC INPUT

AC Start-up Voltage/Auto Restart Voltage

120-140VAC/180VAC

Acceptable Input Voltage Range

90-280VAC or 170-280VAC

Maximum AC Input Current

30A

40A

PV INPUT(DC)

Maximum DC Voltage

500VDC

MPPT Voltage Range

90VDC~450VDC

Number of MPPT Trackers/Maximum Input Current

1/27A

BATTERY MODE OUTPUT(AC)

Nominal Output Voltage

24VDC

48VDC

Output Waveform

Pure sine wave

Efficiency(DC to AC)

94%

HYBRID OPERATION

PV INPUT(DC)

Maximum DC Voltage

360VDC/500VDC

Start-up Voltage/Initial Feeding Voltage

120VDC

MPPT Voltage Range

90VDC~450VDC

Number of MPPT Trackers/Maximum Input Current

1/27A

GRID OUTPUT(AC)

Nominal Output Voltage

220/230/240VAC

Output Voltage Range

195.5~253VAC

Nominal Output Current

15.7A

26.1A

AC INPUT

AC Start-up Voltage/Auto Restart Voltage

120~140VAC/180VAC

Acceptable Input Voltage Range

90~280VAC or 170~280VAC

Maximum AC Input Current

30A

40A

BATTERY MODE OUTPUT(AC)

Nominal Output Voltage

220/230/240VAC

Efficiency(DC to AC)

94%

BATTERY & CHARGER

Nominal DC Voltage

24VDC

48VDC

Maximum Solar Charging Current

120A

Maximum AC Charging Current

80A

Maximum Charging Current

120A

GENERAL

PHYSICAL

Dimension, D*W*H(mm)

420*310*120

Net Weight(KGS)

11

13

INTERFACE

Communication Port

WIFI

ENVIRONMENT

Operating Temperature

0℃~90℃

Storage Temperature

-10℃~50℃